Truck driver salary is a very important factor that decides how many truck drivers are available for hire in a particular location.
Are you planning to become a professional truck driver? You might be asking yourself, how much can I earn as a truck driver? Can I easily support my family with my truck driver compensation or salary? Can I earn a large salary or will I earn a comparatively small sum?
What will the life on road be like, is it worth the time and sacrifice?
Trucking is essential for the growth of any economy because more than 90% of all food and consumer products in the world are transported by trucks. The salary of a truck driver depends on various aspects like where they are based, the distance traversed, the size and weight of the vehicle, the hiring company size, seniority, driver qualifications, working conditions, pay structure, etc.
Until a driver creates a reputation as a professional and reliable CDL driver they will have to be satisfied with a lower pay rate.
This article is a comprehensive guide that analyses what can a truck driver make in the States and how can a truck driver increases his/her income?
You might not be able to make $100,000 each year, but given the unprecedented demand for truck drivers, and if truck drivers have experience, specialization, CDL training, and work for the right company, a driver can make upwards of $80,000, as a trucker salary.
What is the yearly salary of a truck driver in North America?
The pay of a truck driver depends on various aspects like truck drivers' experience, reputation, knowledge, driving circumstances, and much more.
Average truck drivers get paid per mile between 28 and 40 cents. Most drivers complete between 2000 to 3000 miles per week. This means these drivers get an average weekly pay between $560 to $1200. If a driver drove 52 weeks per annum as per these rates, you will get a salary ranging between $29,120 and $62,400.
American Trucking Association (ATA) says there is a shortage of 3.5 million truck drivers, this means salaries will be on a steady rise in the future because the industry will be struggling to find enough drivers to fill the roles and also find replacements for drivers who retire.
What are the hourly truck driver wages?
A driver should be ready to earn in (cents per mile) to maximize the earning potential from driving gigs. TruckDriverSalary.com reports that if you are an experienced driver you can earn much as 60 cents per mile. As a driver, you need to be smart and negotiate your pay based on cents per mile, not hours spent on a trip.
A reputable truck driver is often going to get paid a higher rate because he or she is in high demand
As a driver, if you have been on the driving scene for a while or have a great reputation you won't be able to negotiate for driver pay with your customers. You have to do the hard miles and get paid less until you get experienced, then you can call the shots and negotiate your pay with your customer. If there are traffic blocks and road bottlenecks charging based on cents per mile will not be profitable or favorable,
These are all normal factors that play into the pay rates of truck driving.
We are listing the trucking types and the average payout (salary) of each type:
| | |
| --- | --- |
| Types of Truck Driver | Average Yearly Salary for |
| Class A | $49,000 |
| CDL Driver | $46,000 |
| Truck Driver Run OTR | $62,000 |
| OTR CDL Truck Drive | $57,500 |
| Dump Truck Driver | $39,000 |
| CDL Truck Driver: | $51,500 |
| Tank Truck Driver | $59,500 |
| Bulk Truck Driver | $52,000 |
| Semi-Truck Driver | $49,000 |
| Tow Truck Driver | $35,000 |
| Commercial Truck Driver | $50,000 |
| Route Truck Driver | $37,500 |
The Best States for Trucker Salaries
The vast majority of truckers get paid by cents per mile system. So if on average a driver clocks 70 miles per hour, he/she will be paid $42 for their services.
Trucker salaries depend on where you live, where you are based limits your earning potential due to demand and supply constraints.
State salaries in the U.S. tend to be all over the map — literally. Even new drivers working for the same company can expect different pay rates based on where they live.
The location has a profound effect on the salaries of truck drivers in the USA, See the table which displays average annual trucker wages, average per capita income for other employees doing various occupations, and the difference in the wage of truckers compared to other jobs.
This is an original study conducted by Seek Business Capital that examined average annual truck driver wage data from the BLS by state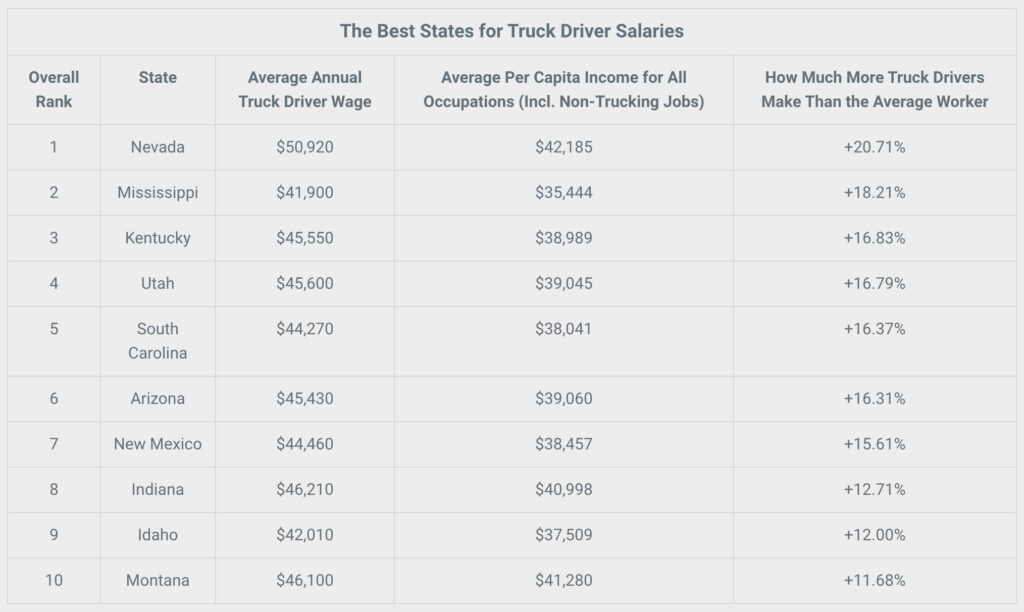 What are the types of trucking jobs and corresponding salaries?
Average truck driver salaries :
According to the Bureau of Labor Statistics, the average salary for a truck driver in the United States is $43,680 per year. However, this number can vary greatly depending on a number of factors, such as the type of truck being driven, the amount of experience the driver has, and the region of the country in which they are employed.
For instance, long-haul truck drivers who transport goods over long distances typically earn more than those who make local deliveries. Drivers with years of experience also tend to earn higher salaries than those who are just starting out. And finally, truck drivers employed in metropolitan areas tend to make more than those who work in rural areas.
New vs Established Drivers:
The majority of new truck drivers make less money than experienced drivers in the long run, provided that you're willing to endure the training necessary just to get on the road. The average brand-new driver will make about $20.49 an hour, although this wage drops significantly for some.
That's because there are many cases when people have to first go through a driving school if they don't already know how to drive a vehicle and be associated with the Federal Motor Carrier Safety Administration (FMCSA).
In addition, most schools pay between around $350 and $1,000 weekly during a driver's training phase. Note: It usually takes at least one month of paid training before getting fully licensed by the FMCSA with passing scores on two exams; both written and behind-the-wheel tests.
Once you've completed your formal schooling, you will start making more money than new co-workers who skipped this step altogether or worked as owner-operators during their initial few months on the job.
CDL Vs Non-CDL driver salaries:
Technically you need a CDL to drive a big rig but only some companies will hire drivers without one. While this is OK, it isn't the norm. So if you get in an accident or anything goes wrong, the DOT will investigate whether or not you have the required Commercial Driver's License.
If they find out that you don't, they can penalize you heavily! Even if nothing happens during your time giving trucking a go, it still pays to have commercial driver's license too. The starting salary for a CDL trucker is approximately $2,000 more per year than what an everyday driver makes.
Once you get fully trained and licensed, your salary will depend on where you get a job or whether you opt to be an owner operator or an independent driver.
The hidden trucking rule is that experienced truckers rack in on an average more money than novices, if you are certified then the situation pivots in your factor. If you apply some skills and be ingenious you could make a lot of money. By taking mileage-based versus hourly wages you can increase your pay exponentially and rack up bonuses.
OTR truck driver salaries:
OTR Trucking, also known as over-the-road truck driving (and sometimes referred to as long haul), is what many people think of when they envision a traditional truck driver lifestyle. Working an OTR job means you'll be alone in your cab or out with a partner inside the cab of another semi or straight truck while covering long distances across both urban and rural areas and will often travel to new locations every week.
The specific equipment they drive can determine what type of license they need; an example is Class A which requires a Commercial Driver's License while Class B allows special endorsements if required by law.
Hazardous materials (HAZMAT) endorsement pays more and is required to transport certain dangerous goods. Certain types of livestock also require special driving skills. Truckers work under minimal supervision, as they cannot be physically assessed unless stopped by police.
Federally mandated hours of service ceilings affect drivers' ability to clock in more miles in a day or week. This makes the driving trade safer. Delays or detentions has a great impact on the trucking industry. Bottlenecks like poor road maintenance and inclement weather has a great effect on clocked miles by drivers, thus affecting your pay.
Owner-operator salaries:
Becoming an owner-operator can be one of the best ways to make a significant income as a truck driver. According to Indeed.com, the average owner-operator salary is about $290,000 per year. On the other hand, operating your own truck has its perks and risks.
You get to decide what you need it to haul and where you want to drive it! However, like with many entrepreneurial endeavors (such as running a small business), success often depends on your skills to minimize expenses and maximize revenue.
Owner-operators are often their own bosses, spending their days searching for new clients and driving cargo cross-country. It's easy to forget that this lifestyle comes with a pretty steep price: expenses! That includes everything from purchasing (or leasing) your own truck to fuel costs, insurance, and taxes.
Small vs. large company trucking salaries
There is no clear-cut difference in pay between big companies and small trucking companies. However, some things are to consider when determining which type of company you want to work for.
Small employers typically don't have as much discretionary income to pay their drivers as a large company might because they ultimately want to make a profit and prioritize the bottom line.
But even with this in mind, small employers who do grow tend to invest any extra money they have into developing the talent at hand – both internally with their current employees and externally with new hires or possibly even partnerships with other struggling companies in their industry.
Large companies generally have more to work with which makes them flexible and generous. You'll be able to reach the top tier of your position and will generally be given a great deal of freedom while working. Though on the other hand there are newer start-up models that may provide less security but offer a higher speed of growth in more focused industries. There's only one way to tell for sure – it's being an entrepreneur and analyzing your long-term goals inside or outside of your career!
Sometimes big companies also pay less rates and give next to no training and these companies experience high driver attrition. Figure out what are your top priorities that lead to your financial goals.
When you are looking for a trucking position, choose wisely a company with an excellent reputation known for its safety record and commitment to its drivers, no matter the size.
How to bring 6 figure salary as a truck driver?
If you want to earn the coveted 6 figure salary from driving a truck. That is $100,000, it is uncommon to earn that much by just driving a truck. It will take at least 10 years to reach near that level of compensation. A driver with 10 years of experience can earn $60,000 yearly. It is most likely that a driver will retire before earning the coveted $100,000 per year salary.
In trucking space there are certain crazy niches where you can earn close to $100K yearly:
Ice Road Trucking:
Ice Road trucking is a niche operation that only exists during winter, It is the most highly paid trucking niche followed closely by oversized cargo haulers and hazmat truckers. Due to the exposure to high risk and danger the ice road truckers earn an entire yearly salary in 2-3 months of operation.
Drivers need to know how to tactical handle the elements and also how to fix or patch their equipment on the road if there is a breakdown or trouble.
A 3 month season of ice road trucking will help a driver earn close to $120,000 a year. Because these truckers are the best in class in the trucking industry and the skills required for ice road trucking are beyond excellent.
Oversized cargo haulers:
To carry oversize cargo a driver needs finesse, a high level of situational awareness, and high concentration. This is why oversize load drivers make a good living. To keep an oversized cargo truck straight needs great skill. The drivers always work with a crew in which spotters are the main part because they keep the truck away from harm's way. Sharing a road with ongoing traffic is a hazard for them.
Oversized cargo-hauling means the driver is putting his butt on the line, because of that a driver is expected to take home an average of $100k to $150k in compensation.
Collect a HAZMAT Endorsement:
Getting a HAZMAT (hazardous materials) endorsement is not so tough, it enables you to carry dangerous loads, which exponentially increases your pay rate. You need to submit background information in an application, and biometric information like fingerprints and identity documents to do a background check. When you clear your background check go to your local DMV and take the endorsement test.
Owner-operator:
A Truck Owner Operator's salary in the US is about $103,494 as of April 26, 2022, but the salary range typically falls between $91,557 and $117,769.
But, owner operators can't save much because of fuel expenses, truck maintenance, insurance premiums, and taxes. All these overheads create a big hole in their income and pretty much cut the income in half.
Income potential of freights by type:
The type of freight you haul dictates how much income you make on your hauls. We are looking at different kinds of freight and there3 earning potential or rate you will get.
LTL:
LTL, commonly known as less than truckload freight shipping, refers to freight quantities that are not large enough to make a full truckload. Traditional LTL has no minimum size requirements. When a shipment is volume LTL, it must consist of at least six pallets, measure between 12 and 32-cubic-feet in size, and weigh at least 5,000 pounds.
The carrier then combines these smaller loads from multiple shippers to create a full truckload. Truck drivers take advantage of both types of LTL in order to fill their trucks and reduce any wasted miles by reducing deadheading.
Flatbed Trailers:
Flatbed truck drivers tow flat, open trailers, which come in many shapes and sizes. They are great for hauling large or oddly shaped items that wouldn't fit well on enclosed trailers, but these extra-large cargo carriers must be secured to ensure the safety of the load and trailer. They require an advanced skill set of their own and may add a rate bonus depending on the load.
Dry Van:
Dry van shipping refers to the storage of goods in a closed container. Dry van trailers are loaded onto dry freight trains, and they can range in length from 28 feet to 53 feet on average. They are great for items that are not perishable and do not require special handling or temperature control.
These containers can be loaded directly into train cars themselves; as a matter of fact, rail providers like BNSF own some of these dry vans entirely. The availability is plentiful since so many companies use them for shipping purposes. Some think that dry van's pricing is very competitive when compared to other shipping options.
Reefer:
Reefer trucks are used to transport perishable goods that must be kept cold or frozen, such as milk, meat, or certain pharmaceuticals. Passenger vehicles simply couldn't withstand the frigid temperature their contents must sustain so reefer trucks are customized for these needs: their cooling system must remain in tip-top condition.
The cost of keeping this up means reefers often earn higher pay but it's worth it to ensure that the products they carry reach their destinations in peak condition!
Heavy haul:
Heavy haul loads consist of overweight and/or oversized items, such as aircraft parts or large military hardware. You'll need to bring in specialized equipment to load these types of items onto the flatbeds or trailers. You will also require additional licensing and certifications to carry this type of cargo legally on the highways.
In addition, you may have to work closely with professionals who can help design safe routes for these trucks because they might be carrying very heavy weight which could cause a great deal of damage during transport. Heavy trucking typically pay well due to the extra regulations and precautions involved.
Hotshots:
Hotshot truckers specialize in delivering small, time-sensitive loads, unlike expedited shipping providers who keep trucks on standby for these loads.
Hotshot rates are higher because shippers are often willing to pay more to receive materials quickly and therefore hotshots are able to charge for their services which happen to be in high demand by shippers with busy schedules.
A fast-growing industry, the hotshot load, and freight business have exploded over the last decade thanks to technological advancements in the trucking industry.
How to earn bonuses while earning a truck driver's salary?
Truck driver compensation typically breaks down into three parts.
Base pay can be based either on an hourly or per-mile rate for hauling a shipment to its destination, which is sometimes supplemented by additional compensation for extra services such as detention (delays from a shipper or receiver) or layovers if you're without cargo.
There are quite a few bonuses that truck drivers can earn as well. Admittedly, their availability may vary based on the specific services they offer or their individual contracts with the companies they work with, but here are some of the most common ones
Sign on:
The trucking business is competitive, and growing carriers constantly need to hire new drivers. To attract the best talent and save money at the same time, many carriers offer sign-on bonuses to their new truckers as a large sum up front. Others choose to offer their new hires a smaller amount spread out over a few weeks or months' paychecks.
Monthly mileage:
Though it's by no means universal throughout the industry, many carriers like to reward their best drivers. Find out if your company has a monthly mileage bonus that you can earn for driving a certain number of miles in a month.
Fuel efficiency:
It is important to keep track of your mileage as you drive in order to have the most effective routes and thus lower costs. Ask if your company has a fuel efficiency bonus for drivers who produce clean records or drive more efficiently, and what documentation is required toward claiming these bonuses.
DOT inspection:
The Department of Transportation (DOT) conducts checks on an annual basis on truck equipment including the driver's daily logs. These inspections help prove that a major component of safe travel is not only found in the rolling stock but also in those who drivers them.
Safety:
Safe driving is important, and carriers reward their drivers for showing a commitment to road safety. Some require that their drivers have clean traffic records, while others require that the driver must drive a specific number of weeks or miles without any incidents.
Referrals:
Referrals are the best on-ramp to recruiting drivers. In many cases, carriers pay referral bonuses to drivers who enlist a friend, but there are usually conditions: the length of time the new driver must work for the company before getting the bonus.
Conclusion:
We hope you enjoyed our article today on truck driver salary. As you know, there are many factors that decide a truck driver's salary. However, with the right training and experience, truck drivers can earn six figures or more!
We hope that this blog post has helped you better understand how truck driver salary is determined. If you have any other questions or concerns, please contact us anytime at contact us.
Thank you for reading!
Other urgent requirements for drivers:
Firstly, there are a few operational adjustments an owner-operator should make while he/she is in the nascent stages of operation. Like enlisting a dispatcher to help you get good and well-paid loads.
Secondly, you need a good insurance agency/provider covering you for various circumstances/policy types. You need to take 3rd party liability, cargo, uninsured motorist, and trailer or equipment insurance.
Thirdly, we need to enlist a factor that has competitive rates and above par service quality to make your business financial bottleneck free. This will help you to have a good cash flow and working capital.