Recommended factoring programs for you based on your business nature and choices
SUMMARY OF YOUR CHOICE
Factoring Program

Recourse

Factoring Offer

1% Factoring Rate for First Month

Additional Offers

(a) You get TCS Fuel Card for Free (highest fuel saving card, save up to 40 cents/gallon)
(b) You get Free 30 days DAT Load Board Access
(c) Eligible for 7 Days Free MaxTruckers Dispatch Trial
(d) You get List of 300 Brokers who are ready to work with new owner-operators
(d) Access to MaxTruckers University, which will give you tips and tricks to build a profitable trucking business

Top Pick

nFusion Capital (Recourse)

Top Pick
Factoring Rate

2.75% (post the first month of 1% factoring rate)

Alternative Programs

ACS Factors (Non-Recourse) and QP Capital (Non-Recourse)
Top Pick
nFusion Capital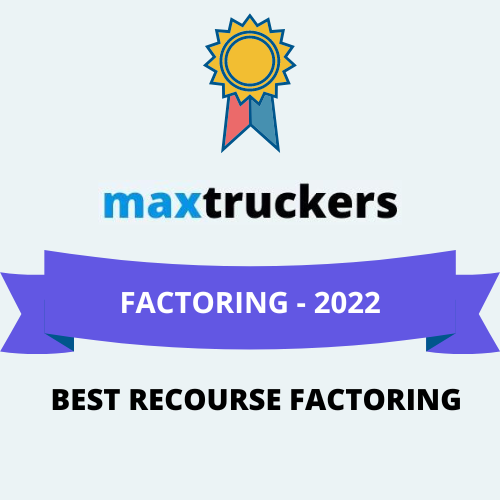 Highlights of nFusion Capital Factoring Program
Factoring Type: Recourse
Rate – 2.75%
Funding Time – Same Day Funding
Customer Support – Dedicated Account Manager
Value Adds – Fuel Advance, No Minimum Invoice Value, No Monthly Invoice Requirements, etc.
Trial Period – 90 Days Trial Period (can judge the quality and can terminate the agreement during the period w/o obligations)
Contract Period – Post 90 days trial, 9 months
NO HIDDEN FEES
NO Force Factoring
MaxTruckers Verdict:

This is the best program for SEMI truck owners who are looking for a lesser factoring rate. Plus, you get 1% factoring rate for the first month through MaxTruckers.

This factoring company has a success rate of 99.97% with owner-operators.

Since you get 90 day trial period, if you want to move out, you can do without paying any Termination fee during the trial period.
They do strong broker credit check to avoid bad brokers and ensure carrier safety.

Also, they will be giving 24/7 funding service soon (role out expected in June). This makes nFusion among the handful factoring companies that provide 24/7 funding even on weekends.

MaxTruckers Offer With nFusion Capital:

You Get 1% Factoring Rate for First Month
Details of nFusion Capital Factoring Program, with Alternatives Chosen for You
(MaxTruckers Provide 100% Transparency)
Alternative -1


Offer – Get 1% Factoring Rate for First Month
Factoring Rate – 3%
Type – Non-Recourse
Reserve – NO
Same Day Funding – YES
Daily Cut-Off Timing – ACH 3.30 PM, Wire 1.00 PM (PST)
Charge Backs – NO
Contract Duration – Month-on-Month
Contract Termination Fee – NO
Dedicated Account Manager – YES
Monthly Minimum Invoice Value – NO
Monthly Minimum Factoring Fee – NO
Minimum Invoice Value – NO
Broker Credit Checks – YES/FREE
Fuel Card – YES
Fuel Line of Credit – NO
Fuel Advance – YES
Fuel Card Funding Fee – $5
Fuel Advance Funding Charges – $25
ACH Fee – $5
WIRE Fee – $15
ESCROW – NO
Other Charges – NO

Recommended


Offer – Get 1% Factoring Rate for First Month
Factoring Rate – 2.75%
Type – Recourse
Reserve – NO
Same Day Funding – YES
Daily Cut-Off Timing – 1.00 PM (CST)
Charge Backs – YES/90 Days (since it is Recourse program)
Contract Duration – 90 Days Trial/9 months
Contract Termination Fee – NO (during trial period)
Dedicated Account Manager – YES
Monthly Minimum Invoice Value – NO
Monthly Minimum Factoring Fee – NO
Minimum Invoice Value – NO
Broker Credit Checks – YES/FREE
Fuel Card – YES
Fuel Line of Credit – NO
Fuel Advance – YES
Fuel Card Funding Fee – $5
Fuel Advance Funding Charges – 1.50%
ACH Fee – $5
WIRE Fee – $25
ESCROW – NO
Other Charges – NO

Alternative -2


Offer – Get $2800 Fuel Line of Credit/Week
Factoring Rate – 3.5%
Type – Non-Recourse
Reserve – NO
Same Day Funding – YES
Daily Cut-Off Timing – 4.00 PM (EST)
Charge Backs – NO
Contract Duration – Month-on-Month
Contract Termination Fee – NO
Dedicated Account Manager – YES
Monthly Minimum Invoice Value – NO
Monthly Minimum Factoring Fee – NO
Minimum Invoice Value – NO
Broker Credit Checks – YES/FREE
Fuel Card – YES
Fuel Line of Credit – YES (Up to $2800/Week/Truck)
Fuel Advance – YES
Fuel Card Funding Fee – $2.5
Fuel Advance Funding Charges – $15
ACH Fee – $0
WIRE Fee – via Qpay – $2.5
ESCROW – NO
Other Charges – NO
Gift for you! You are eligible for "Trucking Business Tools" worth $500!
We understand the needs of new owner operators…
---
You get TCS Fuel Card for Free (highest fuel saving card, save up to 40 cents/gallon)
You get Free 30 days DAT Load Board Access
Eligible for 7 Days Free MaxTruckers Dispatch Trial
You get List of 300 Brokers who are ready to work with new owner-operators
Access to MaxTruckers University, which will give you tips and tricks to build a profitable trucking business
Owner-Operators Love MaxTruckers
Our mission is to help owner-operators to be better protected, informed and served.
See what our customers are saying.
Quick and Easy!
John Kenneth
" I didn't know what type of factoring I needed for my new trucking so I checked MaxTruckers and they provided me with everything in under an hour!"
Honest and Transparent
Laura Chaplin
"There is nothing more that MaxTruckers could have done to make the process any faster or easier. They made it as painless as possible."
Personalized Service
Anthony Thomas
"I was extremely satisfied with all services and communications with MaxTruckers team. I would definitely recommend to others. Thank you guys!"
Our Latest TrustPilot Reviews
(of April 2022)
Apply for the Factoring Program of Your Choice