5 out of 5 stars (based on 1 review)
If you are connected with the world of trucking, you have probably at least aware of the DAT load board. This is the company that pioneered online load boards in America. In this  DAT Load Board Review, we deep dive into the pros and cons to determine if a DAT load board is legit trucking software worth using daily or is it overhyped. 
DAT Load Board has made a big name for itself since it started long back, it is one of the largest load booking (saas platforms) in North America.
It's no surprise that truckers love DAT Load Board because it helps truckers to book loads, find the best load rates and effectively find new customers for drivers and owner operators.
This is the reason why DAT is growing at an unprecedented rate since it was launched.
There is no denying DAT load board is popular but is it worth it? How much can we trust the popular sentiment on this one? It seems it's just another load board application, so what makes it different, and should you add it to your load booking process?
In the DAT Load Board Review, we will go through the gist of the DAT Load TruckersEdge Board- —what it is, the positives and the negatives, the features, customer service, and so on.
This DAT Load board review is based on our company's experience in using DAT TruckersEdge for our dispatch operation.
We used a basic version of the DAT Load Board other advanced versions has many features and plenty of other bells and whistles.
Truckers Edge gives you unlimited searching and posting, instant alarm match notification, broker credit scores and days to pay, market rates, mileage routing, and more extra features in an affordable package.
Whether you choose to use the DAT load board or not, it has become an important player in trucking load booking and ancillary services. Before you read our rating, we will put a solid four and a half stars for DAT Truckers Edge. Surely it has some drawbacks, but DAT TruckersEdge is very good SaaS software to use in the trucking space.
Keep reading to check out why?
Need help with Load Booking, Trucking Dispatch, Insurance, Bookkeeping, Factoring, or Fuelcard?
Click the below button to consult our trucking experts to get a no strings attached consultation free of cost. 
DAT TruckersEdge load board is the best for most recommendations:
DAT TruckersEdgw pro posts more than 887,000 loads every day and about 226 million loads every year. DAT TruckerEdge pro has the most load listing of any load board in the USA and Canada. Truckers and owner operators can gain a competitive advantage using DAT TruckersEdge. 
You can also see average lane rates that brokers pay, find the highest demand states, cities, or counties using TruckersEdge Pro, you can also use TrIHaul or triangular routing to plan the best paying round trips.
Our experts say DAT Loadboard has the best experience among load boards:
TruckersEdge empowers carriers, owner operators, or truckers to view and change search criteria instantly. You can also connect with brokers who regularly post on their trucking lanes. TruckersEdge provides spot market rates allowing you to get paid what you deserve for every load.
DAT Loadboard review highlights:
Here's a brief list of DAT Loadboard's review highlights — keep an eye out for these in this article.
Post a truck feature is available in all versions
Most truckloads appear every day in the load market for truckers
A credit check and days of pay data on brokers and shippers
Factoring and insurance collaborations, make life easier for truckers and owner operators
Easy to learn and use
Premium and money-spinning features like DAT Directory and TriHaul are available in advanced versions
Easy to learn and use
Focused on making truckers more money but helping to book loads from trustworthy shippers and brokers
DAT offers a 1 month free trial
Why is DAT Loadboard the best option for carriers?
DAT is the industry leader in load board apps, they know what the truckers and owner operators need. They offer robust, convenient, data-driven, and accessible solutions for the trucking industry.
This is why DAT TruckersEdge is the clear winner in load board technology, using which, you can take decisions powered by comprehensive resources and up-to-date data. 
Such flexibility and robustness are not offered by anyone in the industry.
The best load boards allow you to:
Conduct unlimited search and post
Find the right loads to meet your goals
Search for freight no matter where you are
Negotiate effectively with brokers
What can you expect from a freight load board?
DAT load board has millions of exclusive listings per year. This is why DAT TruckersEdge provides better load selection compared to other freight matching boards.
Using the reliable, robust, and feature-rich DAT load board will help you to automatically gain a competitive advantage in the trucking business. 
You can see the best loads as soon as they are available, and you can see the rate per mile of the load to be pulled before it is posted on any other platforms.
How can DAT's load boards help my business?
DAT TruckersEdge subscription has robust, intelligent, and efficient features that help to seamlessly generate high profits. You can find, and hunt. negotiate and pull good loads using DAT TruckersEdge.
You can see the average lane rates or rate per mile in the route you are going, it also provides triangular load booking features which improve your rate per mile. Also, you can see the credit history and days of payment of brokers/shippers to improve your load payment and avoid late payments. 
Why is the DAT TruckersEdge load board a good investment?
You can find the best loads in North America, using DAT load boards. DAT offers multiple tools to make an informed decision about which loads to pull, which shipper and broker to work with etc.
You get the best loads and largest volume of freight in any load board in North America. DAT also provides you with real-time market insights which help you to take informed decisions. 
DAT offers a variety of subscription levels to match your interests, experience, and desired level of commitment. 
How can owner-operators, truckers, carriers, or dispatchers use the DAT TruckerEdge?
Carrier can have a regular source of well-paid loads from a DAT TruckersEdge. Just by entering equipment type, pick up, and drop location.
Load boards help carriers to find the highest paying loads also they would be able to negotiate well using haul pay averages for a lane. Carriers don't have to settle for whatever loads they know off.
See our detailed review of the best load boards in North America.
These load board capabilities help carriers find the highest-paying freight loads possible. Rather than being forced to settle for whatever loads they're able to find from brokers and shippers. Carriers or truckers can see thousands of loads going to their pick up or coming from the drop location
The DAT TruckersEdge helps drivers to avoid empty miles while going to pick up or drop a load. Empty miles is a loss for truckers and also an environmental hazard (pollution).
TruckerEdge DAT load boards make it easy for carriers to fill up with cargo, while running to and fro to a pickup or drop location.
Benefits of DAT TruckersEdge LoadBoard
In our extensive 3 month testing of DAT TruckersEdge we found very critical benefits to an owner operator :
Approximately 900,000 loads are posted every day.
Unlimited searches and posts as per your requirements
Real-time check of the average national rates that your equipment is getting.
Free Mobile App for truckers.
You can even check the credit score of a broker before taking a load.
Most importantly you will get an average lane rate for the last 30 days, it will help you in negotiating with the brokers.
You can set alarms for your specific routes.
Company reviews let your research potential, business partners.
Load boards use automation to match trucks with loads more quickly, increasing efficiency and reducing costs.
Load boards automatically assess billions of freight combinations to coordinate and combine shipments optimally.
Provide real-time planning and tracking capabilities, enabling consistent optimization.
Drawbacks of DAT TruckersEdge LoadBoard
You are working with brokers whom you don't know. There can be chances of some or other issue popping up.
All high-paying loads have a lot of competition because many carriers or brokers bid for the same load.
Many brokers will not give you the rate per mile that you wanted as per the standards.
New MC authority owner operators find it very difficult to book a load through DAT load boards.
Our experts rate the subscription tiers of the DAT TruckersEdge load board:
No matter where you are you can find the best loads around North America using DAT One app. This access to DAT One network provides robust and cutting-edge features if you have subscribed.
Users, truckers, or owner operators can view an easy-to-navigate map that helps to zero in on truck stops, parking options, maintenance centers, and more.
Best Deals for DAT TruckersEdge Load board
Starting at just $39.95, the Standard TruckersEdge plan provides unlimited searching and posting, instant alarm match notification, broker credit scores and days to pay, market rates, mileage routing, etc.
Starting at just $75.00, Enhanced TruckersEdge Plan provides all the benefits of a Standard plan plus average lane rates and call to post and search functionality.
Starting at just $125.00, Professional TruckersEdge Plan provides all the benefits of the Enhanced plan plus Tri-Haul, DAT Assurance, information on Canadian Loads, IFTA & Fuel Optimization.
Below are the features available and pricing in various versions of DAT TruckersEdge:
| | | | |
| --- | --- | --- | --- |
| Features | DAT TruckersEdge Standard $39.95/month | DAT TruckersEdge Enhanced $75.00/month | DAT TruckersEdge Professional $125.00/month |
| Load match Alarms | yes | yes | yes |
| Mileage and Routing | yes | yes | yes |
| Mobile App | yes | yes | yes |
| Broker Credit Data | yes | yes | yes |
| Load Count by State | yes | yes | yes |
| Average Lane Rates |   | 15 day | 30 day |
| Call to Post and Search |   | yes | yes |
| TriHaul |   |   | yes |
| DAT Assurance |   |   | yes |
| Candian Loads |   |   | yes |
| IFTA Fuel Optimization |   |   | yes |
Must use features of DAT TruckersEdge load board:
DashBoard on DAT TruckersEdge Loadboard: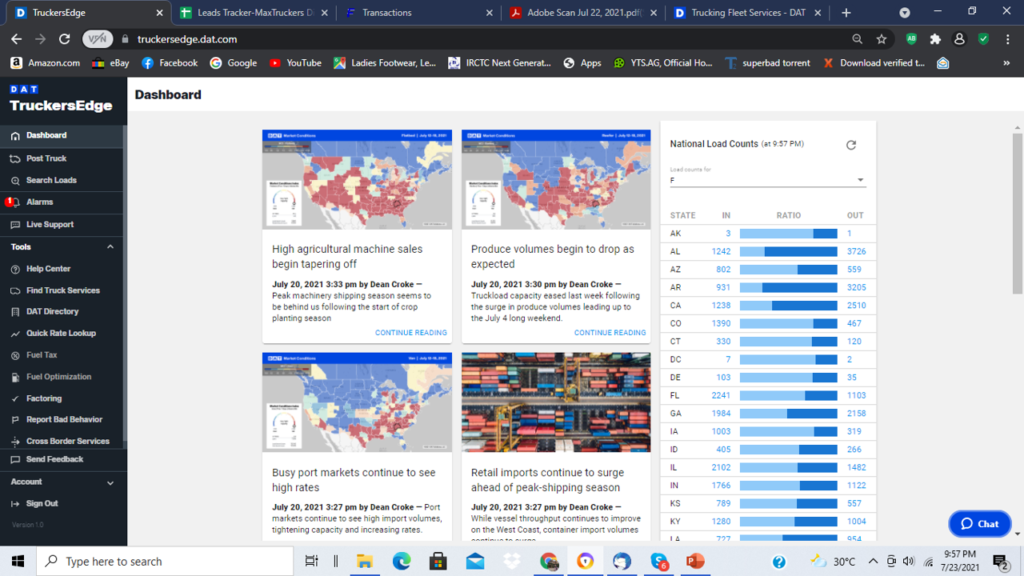 In the DAT dashboard, you will get all the latest news regarding the trucking industry. In the dashboard, you can also see the average national rate of the equipment.
In the dashboard, you can check in which state it is easy to pick up loads from and hard to move out.
Search Loads on DAT Loadboard: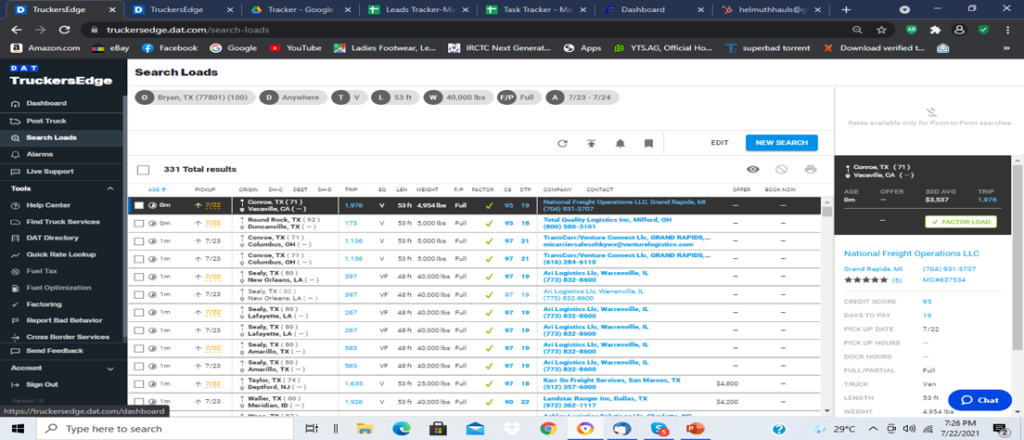 During our testing of the app we searched using filters like: which city you have to find out the loads, for which date you need a load, for what kind of equipment you need a load for, and whether you need a full or partial load.
We found out that even you can search as per how much weight we need to carry on our equipment.
For example, If you need a load from TX and you only want to travel to CA, GA or FI then you can put that parameter on the search.
Post a Truck on DAT Loadboard:
During our testing we used post your truck to our advantage, the post a truck function, using this we can post our empty truck, to DAT Load boards for shippers and brokers to see.
It can be used like this, you can enter the place from where you need a load, where you want to go, how much weight you can carry, and On which date you need a load.
You can add your email address or phone number for getting a call or email from brokers.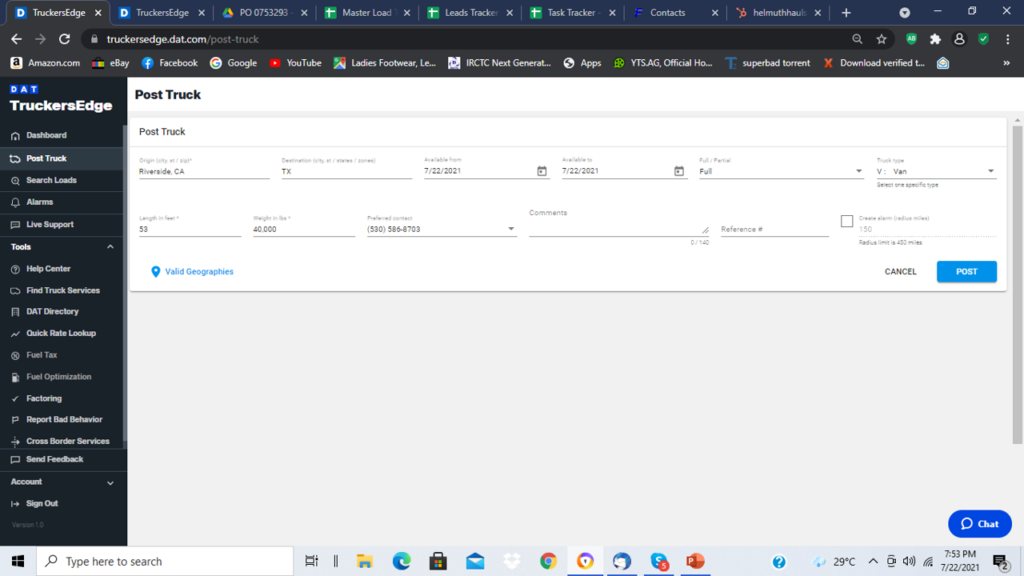 Alarm Function on DAT TruckersEdge loadboard: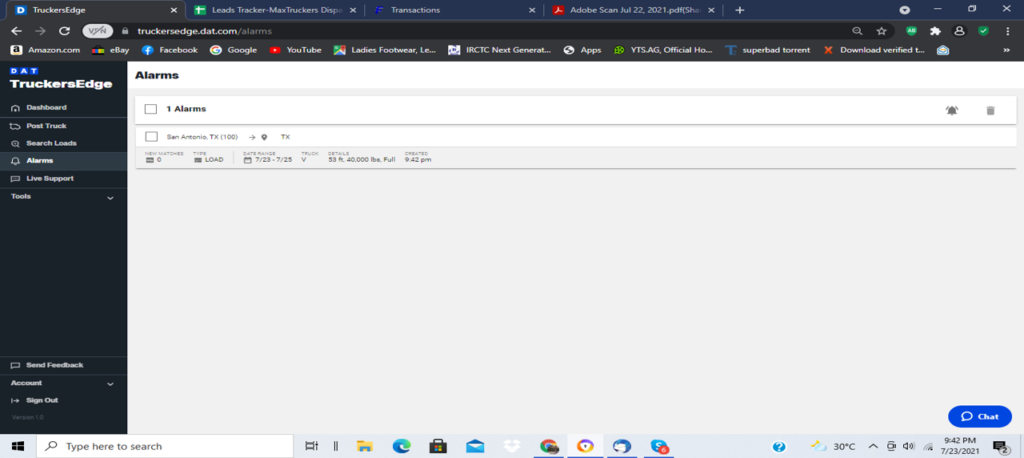 Our dispatch specialists always use the Alarm feature to get ahead of the curve during load booking operations.
The alarm is used mainly for the destination from where we are not getting loads. You just have to set an alarm, while you are on the search load page.
If there are matching loads from a destination, weight class, go to a location you have put, then the app will auto-populate the alarm page. If loads matching your search criteria come for that particular location, it will auto-populate there.
Search Directory on DAT TruckersEdge loadboard: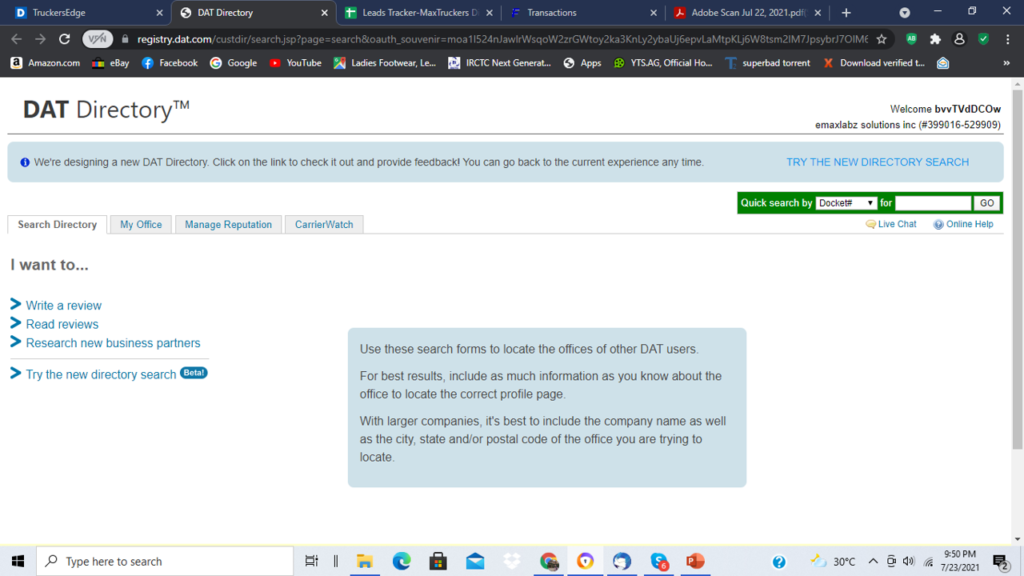 During our review, we found that the DAT TruckersEdge directory can be used to search the histories and reputations of the brokers, carriers, and shippers by using their name or MC authority.
You even can check their credit score from there. This makes things simple for the dispatchers or owner operators who see loads to book it.
You can search Broker or Carrier based on counties, cities, and States. You can get a comprehensive report with DBA, credit score, days to pay, address, MC and DOT number, violations history, etc.
Find Truck Service on DAT loadboard:

You just have to give your location (where you need the service at).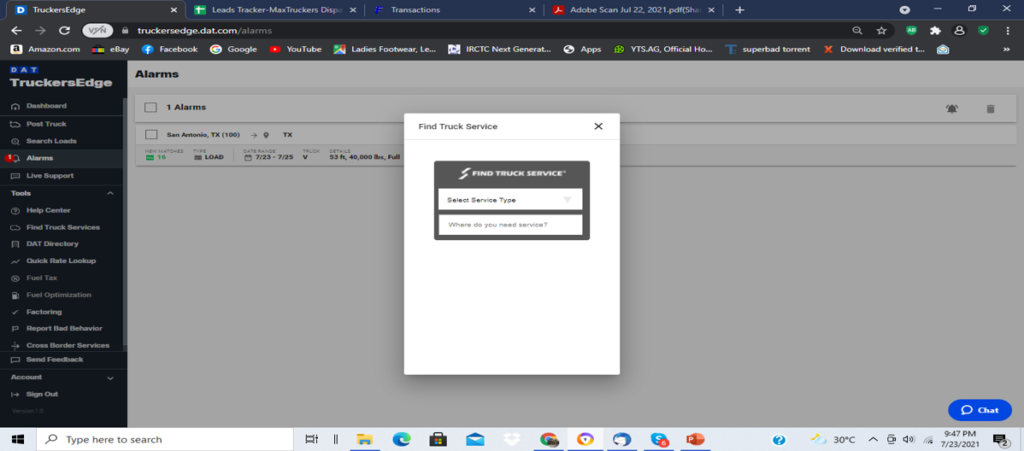 In the find truck service, you will get various options available when you break down and need roadside assistance and quick maintenance.
Our trucking experts found that the DAT TruckersEdge load board helps you to find good repair shops, towing service, truck stops, truck washes, locksmiths and pallets, etc.
Other top-notch features in the DAT loadboard:
Advanced Search Filters:
DAT TruckersEdge can help you to filter your search to find what exactly you want from a pickup or drop the load. These search queries can be used to get the best results on freight type, size, weight, and amount; pickup and delivery times and locations; and more.
Broker Spot Rates:
Based on $24 billion in real transactions broker spot rates are computed– this is the rate that brokers and shippers have actually paid carriers. This helps the owner-operator or dispatcher to see the general market trend and negotiate using up-to-date market rates for a lane.
Broker credit scores:
Broker credit scores are available, the scores range from 1 to 100. On average the credit score of brokers in DAT TruckersEdge is 94 percent, this helps owner operators to find regular and paying loads.
Unlimited truck posts and unlimited load Search:
If brokers and shippers need to ship a load urgently, your truck can be on their radar if you post a truck on DAT TruckersEdge board.
DAT TruckersEdge has the most loads on any load board. You can search for loads and look up the going rates for all the lanes you're running. Make your negotiations and find new customers at the same time.
Phone Posting and Searching:
Using the TruckersEdge DAT mobile phone or tablet you can post a truck, and see for loads that match your search filters. You can be updated on the trucking scene without a laptop or desktop.
Mileage and Routing:
You can have a comprehensive outlook on how many miles it will take to cover your picks and drops. You will also know how long it takes to cover your trip.
You can also save money on fuel by getting rid of out-of-route miles
Inbound & Outbound Loads for Each State:
Truckers can use TruckersEdge DAT to know the inbound and outbound loads from to and fro states
Trihaul:
You get automatic suggestions for DAT TruckersEdgr TriHaul (triangular routes) that can help you avoid low-paying lanes and backhaul rates.

DAT RateView™:
Get visibility into rates that shippers and brokers pay carriers — choose from contract and spot market lane rates, or get both.
Our trucking dispatching experts found out that you can increase your revenue with spot market lane rate pricing.
When you use DAT RateView™, you'll get visibility into rates for virtually every lane in the U.S. You also get 13-month historic rate data for thousands of lanes.
For each search result, you'll see:
Spot market lane rates
Backhaul rates
Automatic suggestions for TriHaul™ routes that beat current backhaul rates
Contract rates (additional subscription needed)
Comprehensive search feature:
Lets you get instant updates, expand your search parameters, look for full or partial loads in a lane or focus on specific lanes.
LaneMakers™:
Finds the companies that work specific lanes, this can be used to increase the rate per mile of your trucking operation.
DAT Assurance™:
It assists in getting payments collected.
Safety and Compliance Features:
We found that the DAT TruckersEdge can help ensure the safety and compliance of every load through strict requirements, carrier monitoring services, ongoing compliance monitoring, predictive crash capabilities, and more.
This is all available for shippers or brokers to see in the DAT Directory, where you can see safety and compliance scores and analytics.
DAT Reviews:
DAT TruckersEdge has the review function, which can be used by shippers and brokers to leave reviews about carriers, carriers to leave reviews about shippers, or brokers can be reviewed by carriers.
Integrate your TMS with DAT:
DAT Integration gives you the owner operator a productivity boost inside your TMS. Add DAT Load Board services, carrier qualification, or rating tools to your TMS, to improve customer satisfaction.
Choose DAT web services to provide the most responsive, extensive, and flexible set of capabilities integrated directly into your application. FTP-based services are also available.
Why should owner operators use DAT TruckersEdge load board?
A load board is a very useful application and it easily increases the revenues of your business by helping you to negotiate and haul good quality and fairly priced loads.
DAT TruckersEdge are very helpful and they helps to increase the effectiveness of your trucking business operations, below given are the plus points of using a load board as an owner operator.
Breaking into the industry:
Our trucking industry experts observed that making a break into the shipping industry is tough for new MC owner operators. Especially getting continuous loads every time you are scheduling a haul (pick or drop). So use load boards to get exposure to good loads.
Reach expansion:
As an owner operator, you get visibility to thousands of loads which helps you to zero in on the best fit load for your haul.
Best Partner Search :
Broker or shipper reviews and compliance and safety reviews of truckers help users of the load boards to find and enter into a contract with the best fit and trustworthy partners
Avoid empty miles:
If you use the load board fully with all its search filters, you can get loads to and fro a location that is near to your pick-up. You can also get highly-paying backhauls. Carriers using the load boards to the fullest fill up each segment of their deliveries.
Spend less and earn more:
Load boards help shippers and carriers for their loads without having to pay to work with freight brokers, and they also help carriers find loads with the highest rates.
Shippers can directly see the empty truckers going to their interested locations and connect with the carriers. Load boards help shippers avoid the costly services of a broker who otherwise would have helped them get the hauling sorted.
Pros and Cons of the DAT Load Board:
Pros
Cutting edge up-to-date technology
New features and integrations added regularly
Powerful and robust feature list even for lower-end product packages
Average rate per mile or pricing in various routes available for the last 15 days.
Insurance and factoring available to screen inside the DAT app interface.
Credit screening for your customer loads available inside the app itself
You can avoid deadheads
Can also get good LTL or Intrastate loads using the app.
Web and mobile versions of the app are robust and easy to use.
Information on the customer, broker or shipper creditworthiness, days to pay, trustworthiness, ease of working with, reviews, etc. are available
DAT has a relatively low cost to participate in the ecosystem.
Load and truck posting is free for all
Cons
Transactional, Not Relationship-Based. So you don't get the best dollar per mile for your hauls
Carriers use load boards to fish for rates, by posting spot loads.
Using Load Boards is bad for owner operators or truckers because they compete with many trucks and finally settle for a low dollar per mile
The cost of doing business on the load boards is more. Costs include onboarding costs and setup costs.
Usually, you get to work with carriers and brokers out of your network, which is costly.
Data entered in the load board is public to brokers and shippers.
Carriers will get unsolicited calls, for load rate negotiations. Which would be a headache and time killer for carriers.
FAQ about DAT Load Network:
We are answering the most googled faqs about truckload boards for owner-operators, carriers or shippers, etc.
1) What does "Powered by DAT" mean?
TruckersEdge is an arm of TransCore DAT and runs on the same technology that runs all DAT products. DAT was founded in 1982 as Dial-A-Truck by Al Jubitz (also known as DAT Services). TruckersEdge got acquired by TransCore in 1992 from Interstate Fax Service (IFS), a pioneer in internet load board services.
Carriers, brokers, and shippers have leveraged DAT's superior network for the last 39 odd years. 
 DAT continues to be the industry leader with about 60 million loads per year of those 42 million is only found in the DAT network. The quality of stakeholder participants like (broker/shipper and carrier) is the best in the DAT network. That's why it's the industry's choice and yardstick to compare other competitors.
2) How many loads are on TruckersEdge?
On a day the load density depends on the seasonal variations, demand, and supply. But industry-leading research on daily load count says that maximum loads appear in DAT load boards. 887,000 loads posted every business day
3) Who sees my truck postings?
If you post on the DAT load boards brokers or shippers across the DAT product network see your postings.
You can select the best brokers and shippers by looking at the credit score and payment history inside truckersedge.
DAT TruckersEdge is the industry's best and safest spot to find loads, and connect with brokers, shippers, and dispatchers.
Because there is strict scrutiny with checks on areas such as creditworthiness, performance under new names, addresses, and Phone numbers this keeps DAT products pretty safe to do business in.
4) How do I select my equipment type using DAT search?
Just key in or select the equipment option that you have into the TruckersEdge (it has the biggest database of loads in the USA).
DAT Load board serves as a liaison between shippers and carriers.
5) How to find the best freight brokers?
You can find potential business partners (freight brokers) using the DAT directory, key in the details, and read reviews to see their operational, credit, and business history.
6) How to negotiate the best rates for truckloads?
Pay attention to spot rates also you need to know the loads coming and going out of an area. Please give special attention to drop-off locations. Find out your cost per mile.
Find out the load timings that are the pickup and drop-off times. Also, find out dock hours.
The above facts and figures will help you to negotiate a good rate for the load you are carrying.
DAT Truckers Edge Load Board has all the above in an easy-to-understand dashboard.
7) How to spot good loads in bad markets?
Perform a reverse load search and see the demand and supply of the loads from the location you are hauling from. If more trucks are coming compared to leaving the rate per mile will be affected, which means there will be unwelcome competition on the hauls you make
Use DAT Hot Market Maps, to find a load to trucks ratio, if there are a lot of loads and fewer trucks then that is a good start.
These are some aspects that will get you a good load or a good rate in a bad market.
8) How do you decide what rate per mile I should charge?
To reach your minimum cost per mile – the rate per mile you should charge to break even – sum up the fixed expenses for the month and divide with the number of miles you drove your trucks that month. Do the same for variable costs and salaries and add them together to get your total cost per mile.
9) How do I find Freight Broker as a first Timer owner-operator or trucker?
As a first-timer, you need to be honest, forthright, and give good service to make a name in the industry. To find loads of brokers you can use the DAT TruckersEdge platform.
The best way to find brokers who would work with you is to get on the load board, call them, and tell you you are available on a route.
10) What is the best load board for dispatchers?
DAT Power is the industry-leading and best load board for dispatchers in the North American market.
11) Is TruckersEdge the same as DAT?
TruckersEdge is part of TransCore/DAT and is powered by the same technology that runs all DAT products.
12) What is DAT TruckersEdge?
DAT Solutions is the granddaddy of truck load boards, founded in 1978 as Dial-A-Truck (also known as DAT Services) by Al Jubitz, a truck stop owner in Portland, Oregon. TruckersEdge was acquired by TransCore in 1992 from Interstate Fax Service (IFS), an Internet pioneer in load board services.
13) Is DAT a good load board?
DAT loaded board is the best in North America, because it offers the widest range of loads with the most comprehensive information of who your clients are. DAT has the most loads posted every day, because of this truckers or owner operators ca find the best fit and strong load or deal,
14)How many users does DAT have?
DAT users post more than 249 million loads and trucks annually on the biggest super-database for freight in the trucking industry.
Review Verdict:

Our reviewers found DAT TruckersEdge provides carriers access to the trusted DAT® Network,
DAT TrucksEdge is North America's largest marketplace for freight loads and trucks with over 600,000 loads posted daily.
During the process of our review, you found out that DAT TruckersEdge is the best load board for the owner-operator.
We found out that you can instantly find and bid on loads as they arrive in your feed, filtered to your preferences. You can also use the heat map feature to figure out where your trucks are in the highest demand.
Our experts found out that DAT TruckersEdge has the widest range of loads, with the most detailed information on who your clients are.
Conclusion:
Load boards are a great way to find loads if you are starting your business. Especially DAT load board has industry-leading features like average Lane rates, average inbound and outbound traffic from a location, etc.
As a truck owner-operator or trucker you can also build a relationship with high-paying shippers, or brokers and haul their loads directly before it is put on a load board. Follow the money and when you become known by brokers, or shippers you will be directly contacted for hauling loads to and fro.
For a fresh-to-market owner-operator, the DAT load board is a lifeline it provides you the best dollar per mile both to and fro hauls. Make the best use of the load board to increase your average lane charge as a newcomer.
Other urgent requirements for a owner operator
There are a few operational adjustments an owner operator should make while he/she is in the nascent stages of operation. Like enlisting a dispatcher help you get good and well-paid loads.
Secondly, you need a good insurance agency or provider covering you for various circumstances or policy types. You need to take 3rd party liability, cargo, uninsured motorist, trailer, or equipment insurance.
We need to enlist a factor that has competitive rates and above par service quality to make your business financial bottleneck-free. This will help you to have a good cash flow and working capital.
---
User Reviews of DAT TruckerSEdge Load Board

5 out of 5 stars (based on 1 review)
---
Recent Reviews of DAT TruckerSEdge Load Board:
DAT TruckersEdge Load Board Review.
Best In class load board, with free truck posting, robust credit checks on clients, clients day of pay and factoring available inside the app screen
---
Write A Review on DAT TruckerSEdge Load Board: